In Stone Ridge, when the owner's away, the cats play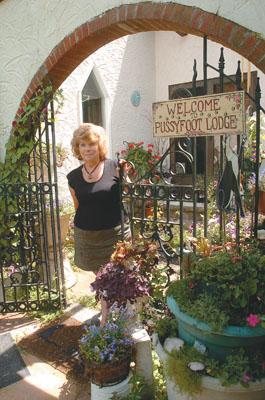 It's been said before that cats are really cleverly disguised human beings, only with a tad more sophistication.
In the case of Bonnie Greene, the opposite may be true.
"I feel like I'm part cat," she said with sincerity. "I talk with them. I can almost see what they're thinking by looking into their faces."
Greene has taken that peculiar, Dr. Doolittle-like gift and skillfully built her life and home-based business around it.
She operates what she calls a bed and breakfast exclusively for those of the feline persuasion, and you could say it's the creme de la creme in animal accommodations.
In fact, the overnight and long-term "guests" at Pussyfoot Lodge in Stone Ridge often leave the tucked-away sanctuary meowing marvelously.
Sophie was one such animal.
As her owner returned from vacation and checked her out earlier this week, Sophie barely noticed the activity around her. She lay curled in a comfy ball in her carrier. An aura of profound peace surrounded her.
"Whenever I pick her up from here, she's always very calm and happy," said long-time customer Joni Lishman of Marbletown. "Bonnie's great with her. No one does what she does."
Not many, at least.
Pussyfoot Lodge has been around for almost 40 years, and its success is built not only on the owner's reputation, but the one-of-a-kind accommodations. There are no cages. No loud noises. No barking dogs or yelling children.
Instead, seven specially constructed rooms -- two of them, suites -- await boarders. Each room has a private litter box, a wooden scratching post and an inviting window perch.
Pussyfoot Lodge has been featured in national magazines like Cat Fancy, so Greene often draws out-of-state people as well as locals.
It's no wonder. The cats are clearly snug in their surroundings.
Witty was testament to that. Her owners were in Cape Cod, and she didn't seem homesick at all.
When Greene went to check her, the cat jumped from her perch and began strutting and pressing her soft body against Greene's bare legs.
"We start with a sterilized room, and people bring stuff from home," Greene said. "I've actually had people bring their own furniture. The cat is used to a certain table or a certain chair, and it works good."
Most of the animals warm up to Greene, although it usually takes some time. That's part of the nature of the beast.
"First, they're going to size you up. Once they're emotionally settled in, it's all down hill," Greene said.
"I had one just the other day. I put the cat in its room, opened up the carrier, and out it comes. It looks at me and says, Well, I don't know what we're doing, but what's to eat?' The cat had never been here before but it was at home. It was just terrific.
"Greene's uncanny ability to communicate with her boarders indeed serves her well. She said cats can tell if people like them, and they remember a human's scent and voice.
"To them, I smell like person and look cat. I generally have a good relationship with them."
Part of that goes back to her own love for felines. Even as a child, she'd dote on them, dressing them in dolls' clothes and taking them for rides in a baby carriage.
"They all have different personalities," she said. "You have to cater to each one of them."
Since she started her business, Greene has taken in all breeds of cats, and she has all kinds of tales to share.
"I have had a couple that started out nasty. They generally come in here spitting and growling, but they leave mellow. Truly, that's generally the scenario," Greene said.
There has been at least one exception. Greene also house-sits animals while their owners are away.
One was a cat named Puddy. Greene will never forget the animal or the moment.
"I had just fed it and was on my way out the door," she recalled. "The cat actually came from a distance, lunged at me and sunk all four canines in my leg. It was like getting bit by two snakes at one time."
The wound cost her $25,000 -- $5,000 of which was out-of-pocket. She needed two surgeries to patch it up and developed septis, an inflammation from the infection.
Two years later, the bite is still visible on Greene's leg, but she said she learned a valuable lesson from it.
"I'm no longer going to go in with shorts like a trusting person. I'm going to go in with pants on, and I'm going to keep a very good eye on a cat that does that kind of thing."
Greene also expects her customers to be upfront and tell her if their cats are prone to aggression.
"All of this could have been avoided if the owner had told me that she had been bitten by the cat before."
Greene always has a lengthy discussion with prospective customers. She expects honesty on their part. She wants to know things like a history of aggression and whether or not the cat has any health issues. All of them must be up-to-date on their shots.
"And they can't have fleas. Not even one," Greene stressed.
Another requirement is that they must arrive in pet carriers.
"Over the years, I've had them come in the doggondest, cotton-picking, unbelievable things," Greene said.
One couple brought its cat in a box with no holes. Another cat arrived in a pillowcase. Greene especially recalls moments like the time a cat escaped from its owner's car. The woman had a plane to catch and left Greene to chase it down.
She even had several cats arrive in a stretch limousine. Their owner worked at the Egyptian embassy, and she was coming home to visit relatives.
"It's quite the thing to see them come in style like that. It's one of those things you never forget," she said.
Greene knows she's got something special going with her Pussyfoot Lodge, and she's only too happy to be providing the unique service for her loyal customers.
She's even considered writing a book about all the experiences she's had running a cat bed-and-breakfast.
Greene has also become an expert on cats, and she's developed some very strong opinions about how they're cared for.
One is her belief that cats should be kept indoors at all times.
"They don't miss what they don't have. Even after they've been out, they can adjust," she said.
She also firmly believes cats should be fed holistic, meat-based products only. Greene has a notion that a lot of the increasing animal aggression she's been seeing is food-related.
Until the time that she decides to sit down and chronicle her experiences, Greene is content to keep her felines cooing.
"I love what I do. I love being home. I love cats. I think you can look deep into a cat's eyes and see an expression of happiness. That's the reason I'm so successful," she said.