Hudson Valley's Cat Boarding & Sitting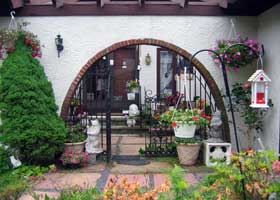 Welcome to Pussyfoot Lodge in New York's beautiful Hudson Valley. We offer in home cat sitting services and cat boarding services. This is where America's best-loved cats come to stay when their owners leave on vacation or business.
For more than 35 years, Pussyfoot Lodge has offered personalized pet care. On site, each guest enjoys the comfort and security of a good-sized private room, which can also accommodate multi-cat families.
Bonnie Greene, the owner and operator of the Pussyfoot Lodge cat boarding home, is considered a pioneer in stress-free, cageless boarding for pet cats and home pet sitting for companion animals. When she opened the Lodge in 1971, she had no competitors offering such services and high level of care. Today she has no equals.
Contact Me Today to see how I can care for your cat in your absence!
Bonnie attributes the success of her business to the luxurious, cat-centric accommodations built by her husband Charlie and their three sons, Darryl, Mark ,and CJ.
Customer appreciation for Bonnie's unique services has been instrumental in Pussyfoot Lodge's continued success. Many pet owners have indicated they're so happy they found the Lodge that now they can start traveling!
Pussyfoot Lodge understands cats and believes that each one is unique. Cats with special needs - including those on a special diet or requiring medication - are also welcome and attentively cared for. Because in addition to food, water, and shelter, Pussyfoot Lodge provides its guests with the loving attention all cats deserve.
Please explore our Web site to learn more about Pussyfoot Lodge boarding facilities and services in Ulster County, New York. Contact us by phone or email to learn more or to make a reservation for your cat to vacation with us.
For your additional peace of mind, please note that Pussyfoot Lodge is both bonded and insured.