Our Services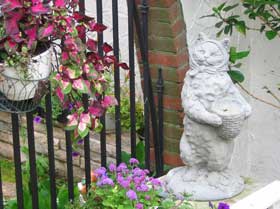 At Pussyfoot Lodge, we understand that having peace of mind when you're away from home is critical. As a customer, you may take advantage of the following services:
On-Site Cat Care
Cats (and multi-cat families) can enjoy their own private, feline-friendly room at Pussyfoot Lodge.
Pet Transportation
Does your cat need to be picked up and transported to Pussyfoot Lodge? We can arrange and coordinate transportation to make sure he or she reaches our cat B&B safely and departs on time.
Animal Care in Your Home
Pussyfoot Lodge services extend beyond cats. We can provide home care, feeding, pill delivery, play, and affection to all pets and are experienced handling dogs, birds, rabbits, turtles, and fish. We have also tended chickens and some farm animals.
Regardless of species, your pet will receive the attention of a professional with experience as a veterinary assistant. This service is available to homes within the Hudson Valley area of New York.
Care for Plants and More
Although cats are first and foremost with Pussyfoot Lodge, we also can provide garden and greenhouse maintenance in your absence. As homeowners, we know how to deal with heating, cooling, and security systems. We will retrieve newspapers, collect mail, and bring in trash cans in addition to other touches that make your home look lived in while you are away.
Contact Me Today to see how I can care for your cat in your absence!